Man Eats Wild Recipes
At heart of Man Eats Wild is Kalpou's lifelong passion for food and profound ambition to help others strengthen their connection to their food sources. He views holistic harvesting as a vastly more ethical, sustainable, and health-supporting alternative to reliance on factory farming and the processed-food industry and hopes to inspire viewers to rethink and reshape their dietary habits by harvesting, gathering, or otherwise sourcing their food locally.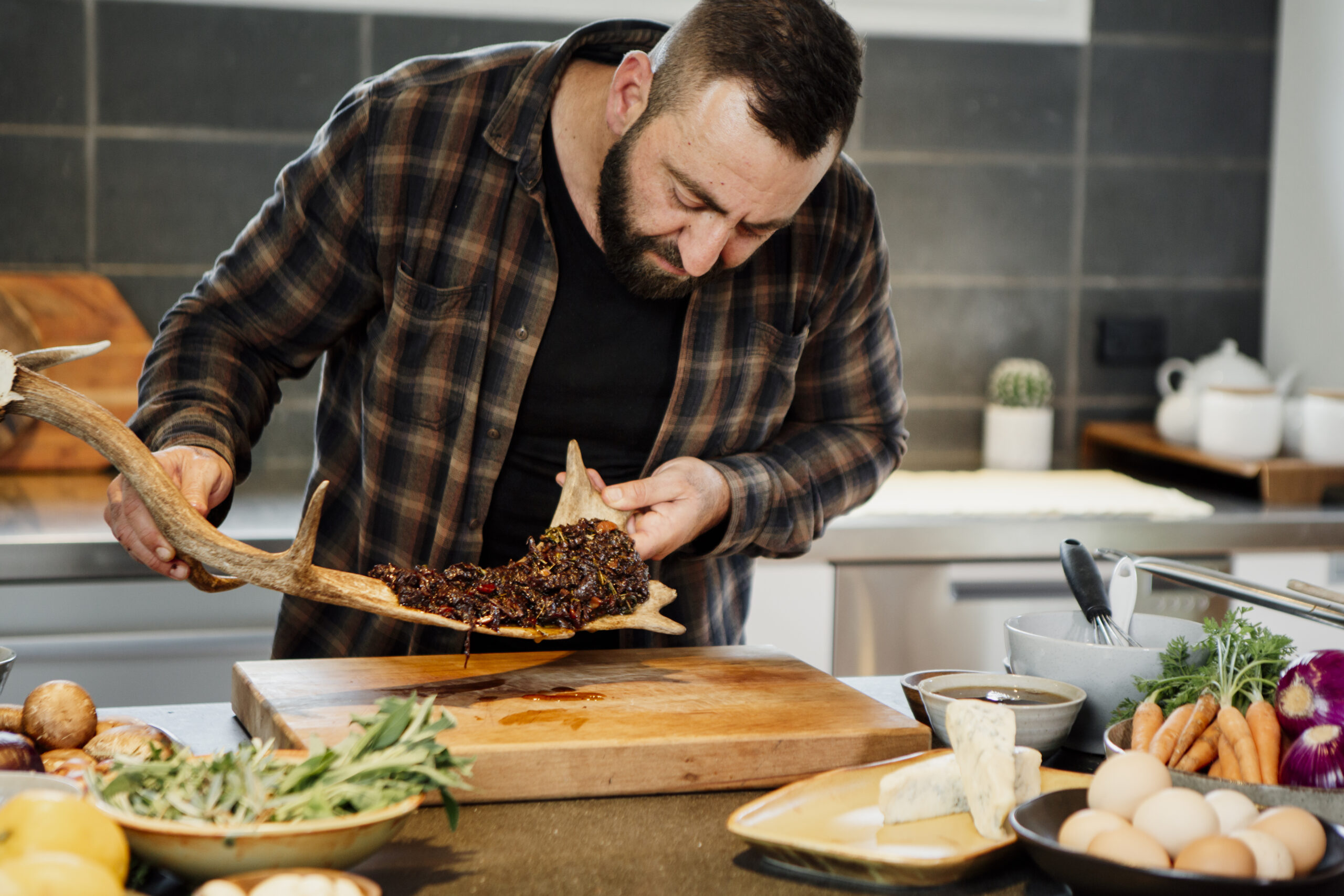 I was inspired by my friend & NZ's best Chef Vaughan Mabee to use and utilize this invasive wild game to its fullest by creating a delicious rustic & comforting pie that I literally wrapped around the antler of the deer.
Fall meets flavor in this mouthwatering, crispy & silky-smooth pie.
Ingredients:
• Fallow Deer Back Straps 
• Thyme, Sage, Rosemary 
• Deer Stock (beef stock works too)
• 2 Garlic Cloves 
• Spanish or Red Onion
• Mushrooms 
• Balsamic Vinegar
• Red Wine
• Gorgonzola Cheese
• Pie Pastry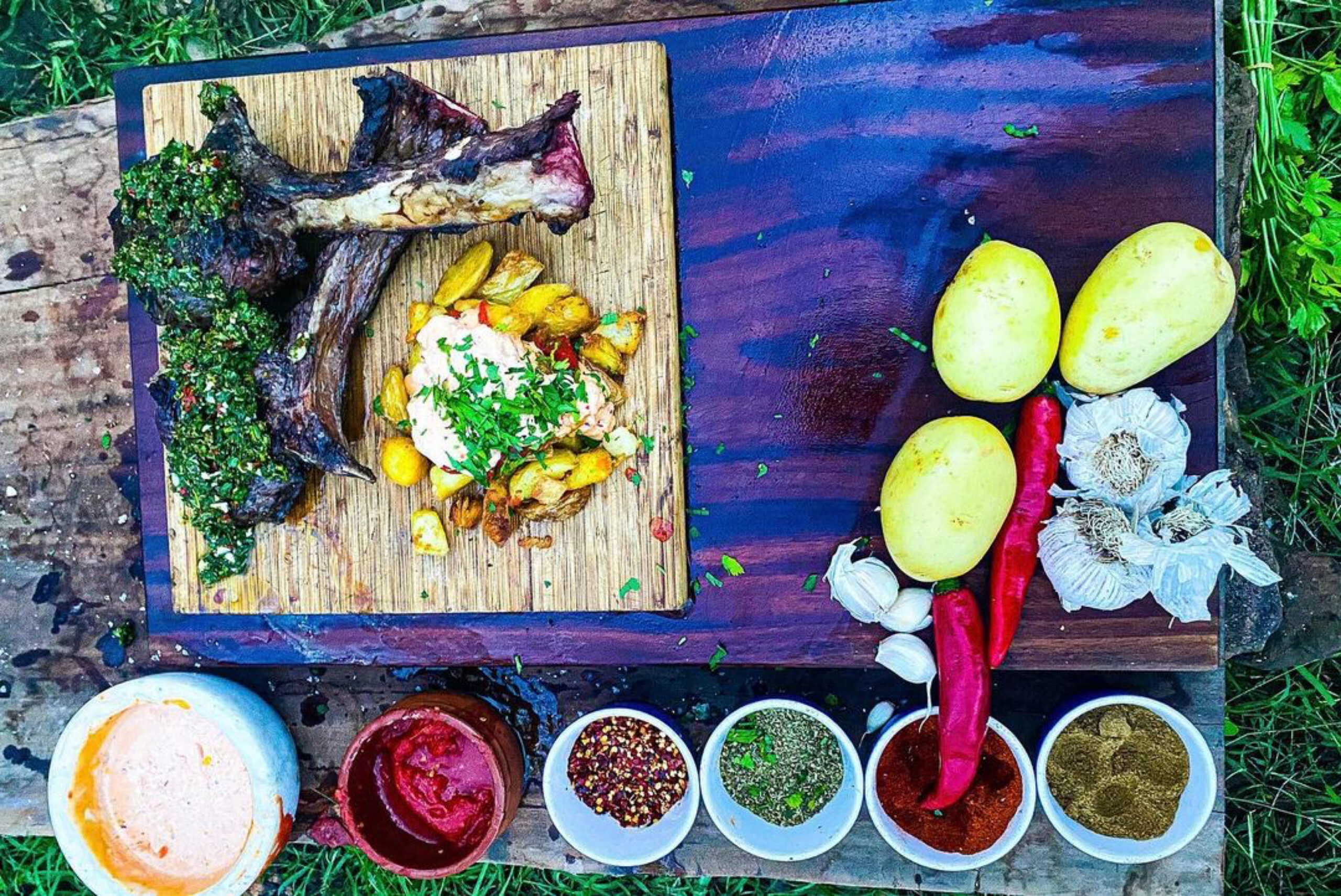 Buffalo Ribeye with Chimichurri and Patatas Bravas
Water Buffalo Ribeye Steaks with Chimichurri Condiment and Patatas Bravas aka the fierce potato dish.
Chimichurri is an uncooked sauce both used as an ingredient in cooking or condiment for grilled meat. Predominately found in south American cuisine specifically in Argentina and Uruguay, this is a great way to dress up any kind of wild protein.
Ingredients:
• Buffalo Ribeye Steaks 
• Potatoes
For the Chimichurri 
• Parsley, Oregano
• 2 Garlic Cloves
• Olive Oil 
• Apple Cider Vinegar 
• Pinch of Sea Salt + Pepper
For the Patatas Bravas Sauce
• 2 to 3 Bay Leaves 
• Chile Flakes, Cayenne Pepper, Smoked Paprika
• 1 to 2 Garlic Cloves
• Oregano, Cumin
• Olive Oil
• Organic Mayonnaise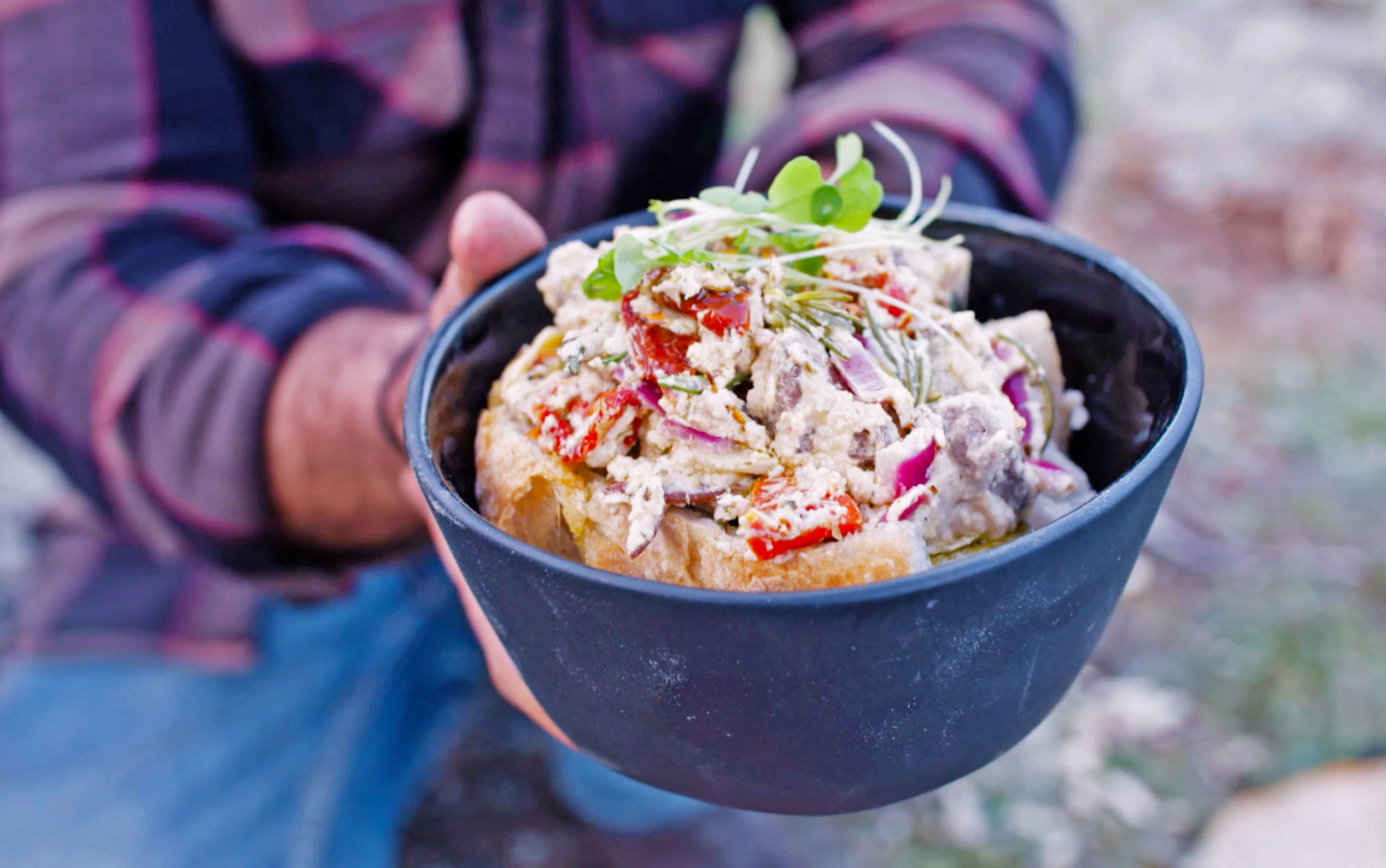 Kelftiko is a rustic traditional Greek recipe utilizing lamb however other sources of gamey protein may be used such as goat.  The meat is normally marinated in garlic olive oil and lemon juice.  The recipe was originally cooked in an earth oven or simple pit in the ground used to trap heat and smoke and that's exactly what we did here. Slow roasted a tahr "Kleftiko" dish in an Earth oven.
Ingredients:
Grab a cast iron dish to retain high heat in your earth oven
• Feta cheese (crumble it to cover the bottom of the dish)
• Next prep your veggies
• Cut up a one yellow, red, and orange capsicums/ bell peppers (layer them in the dish)
• Add 1 Red Onion
• 1 Chopped Garlic Clove
• Sun-dried Tomatoes 
• Kalamata Olives
• Artichoke Hearts
• Caper Berries
• Tahr salami (or whatever wild salami you have) 
• Throw some fresh herbs on top, I used rosemary 
• Sprinkle in some dried oregano 
• Add your raw meat (*Anything that's slow roasting you want to use the most gelatinous part of the animal…otherwise it gets too tough. I used tahr shoulder blade! )
• Add fresh cracked pepper
• Drizzle some olive oil on top
• Finish it off by crumbling more feta cheese on top, a few more herbs + a pinch of oregano 
Now it's ready to slow roast in your Earth oven! Let it cook for 4-5 hours. While you're waiting, sit back around the campfire and have a few beers with your mate. 
Once it's done roasting, add it to a piece of ciabatta bread and enjoy!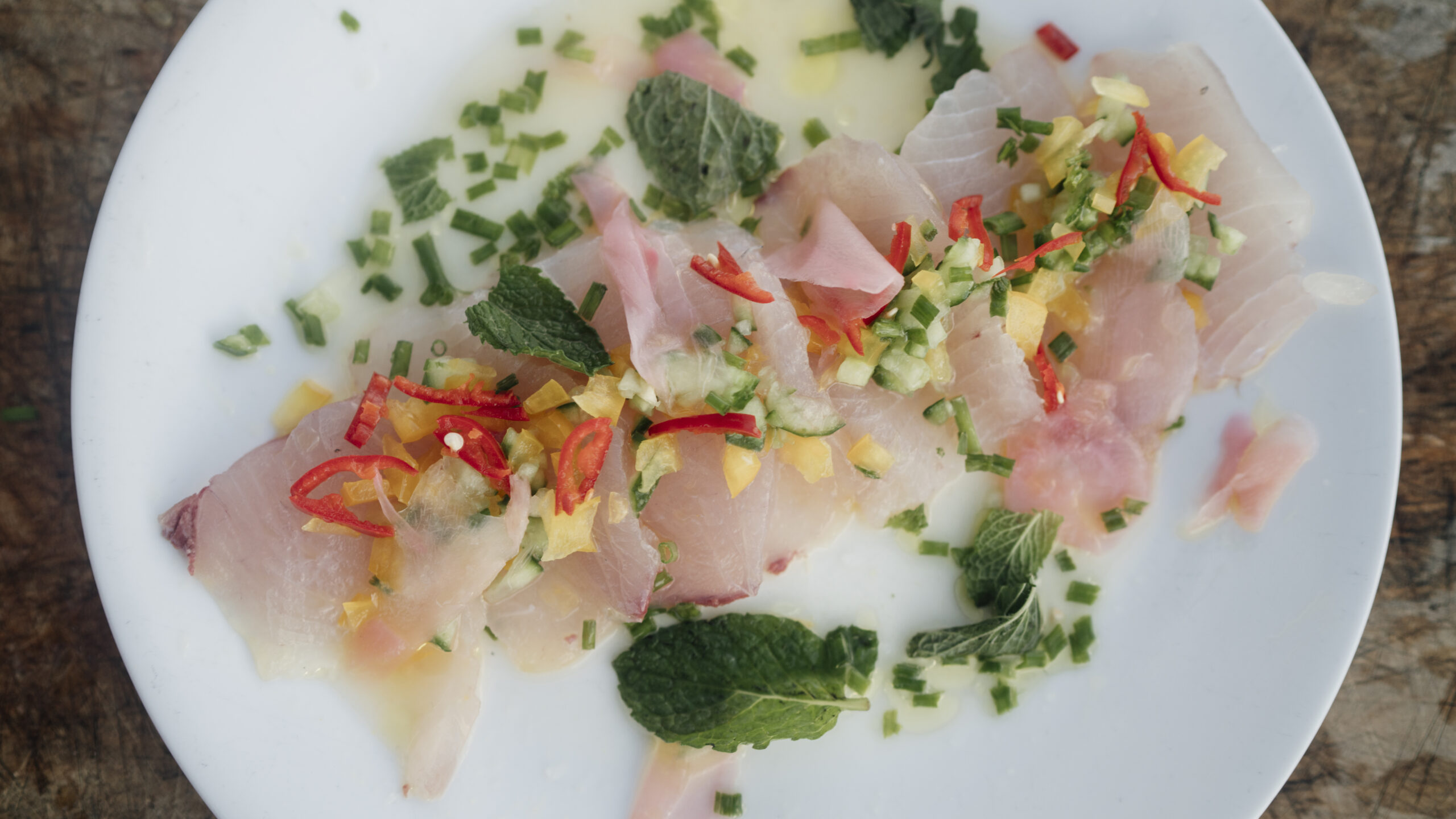 Kingfish (yellowtail) Ceviche
Ceviche is a south American seafood dish originating from Peru.  There are many species of fish that ceviche can be made from, but typically fresh raw yellowtail is the most known.  The fish is cured in fresh citrus juices normally lemon or lime. 
Ingredients:
• fresh & thinly cut kingfish (yellow fish) I used the back tail
• lemon juice
• lime juice 
• grapefruit juice 
• olive oil 
• mint 
• chives 
• capsicums (peppers) 
• cucumber
• pickled ginger
• chopped coriander (parsley) 
• add some yellow & green chiles if you want a kick of spice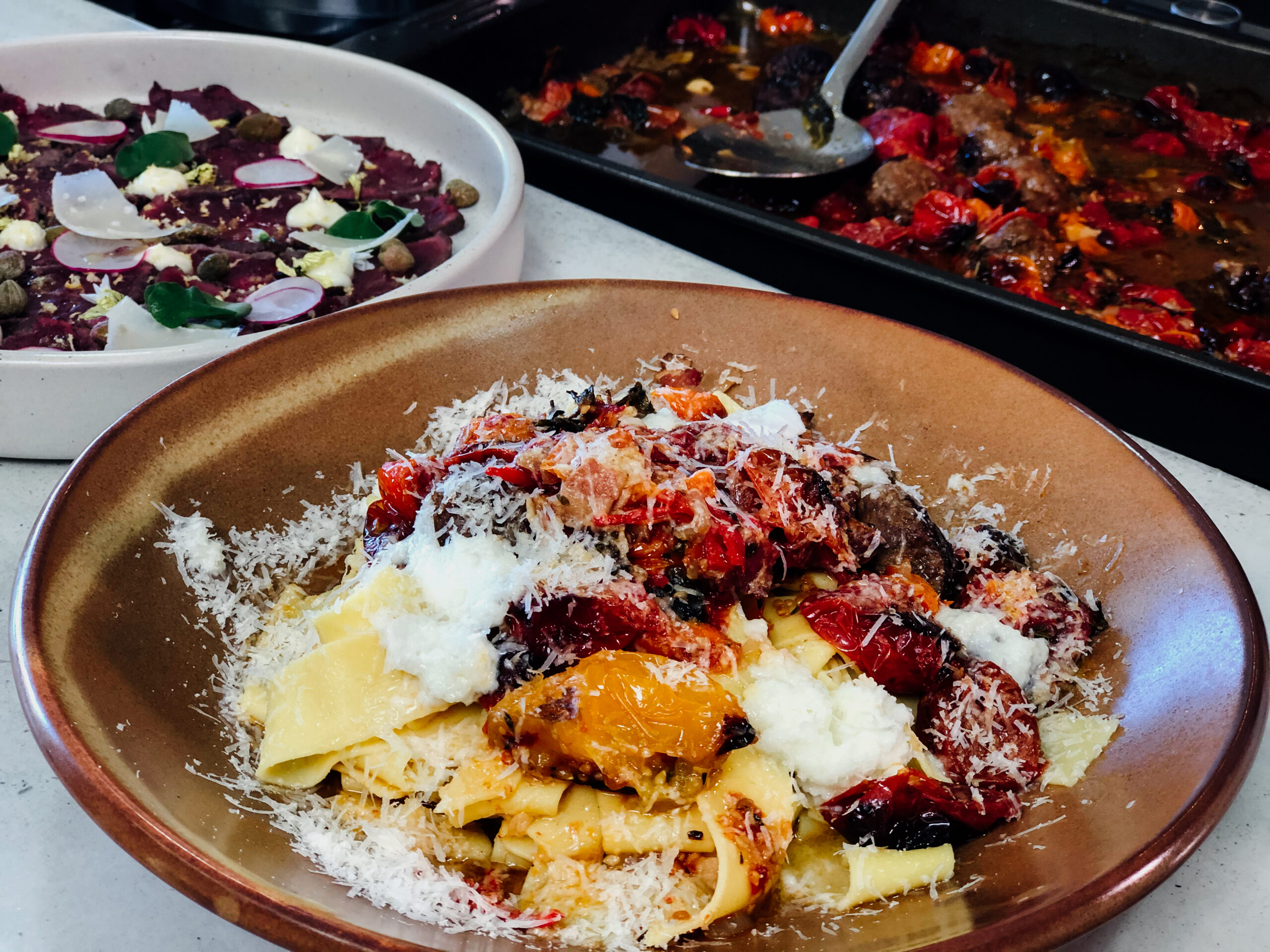 Chile venison sausage pappardelle pasta and venison loin carpaccio
When the South of Italy meets the South Island of New Zealand with two amazing venison dishes from the NZ Red Stag. A hearty chile venison sausage pappardelle pasta and a venison loin carpaccio with herbs foraged from the wild. Grown natively in New Zealand and hand-picked by me on my adventures.
 Sorrel is a herb or garden green that is very flavorful and has amazing sour and acidic undertones which are reminiscent of lemon zest.
 Onion weed is part of the garlic family.  Remove leaves as the flavor is in the flowers and they can also an attractive garnish. 
Ingredients:
Chile Venison Sausage Pappardelle Pasta…
• Venison sausage
• Pancetta meat
• Onion
• Garlic
• Chile
• Parsley
• Heirloom tomatoes
• Raspberry balsamic gl
• Parmesan
• Pappardelle pasta
• Buffalo mozzarella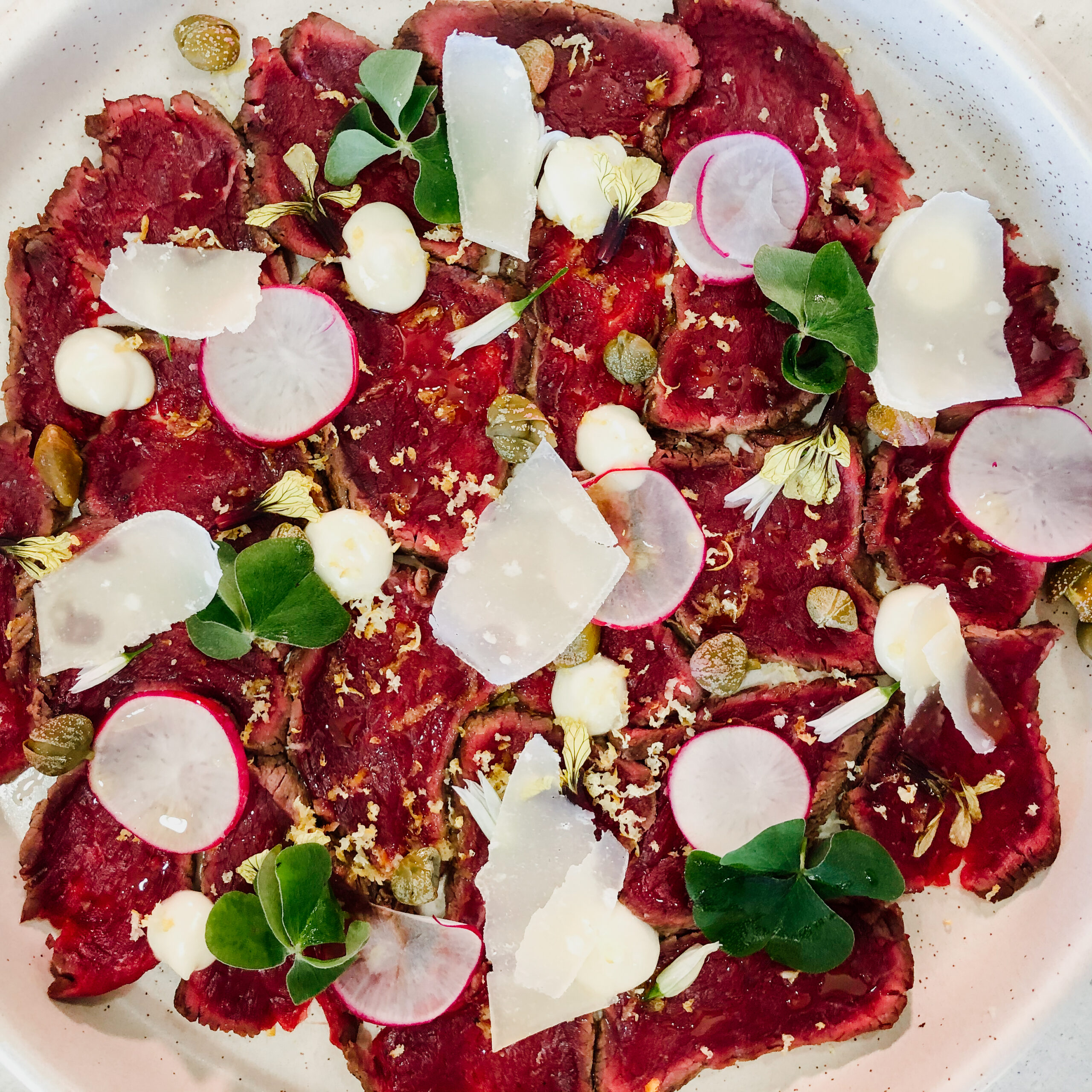 For your Venison Loin Carpaccio
• Venison loin (thinly cut, lightly seared)
• Garnish with onion weed, rocket flower, & wood sorrel
• Truffle oil
• Parmesan
Now it's ready to slow roast in your Earth oven! Let it cook for 4-5 hours. While you're waiting, sit back around the campfire and have a few beers with your mate. 
Once it's done roasting, add it to a piece of ciabatta bread and enjoy!
Boar Schnitzel with caramelized onion chutney and fresh Saratoga with herbs
Schnitzel is always a favorite and this wild boar is a delicious especially when cooked it up in a skillet over the open campfire. Top off the boar with a caramelized onion chutney and you have yourself an amazing, yet simple dish. 
Ingredients Needed: 
Catch of the day 
• Fill the fish's cavity with the following… 
• Decent whack of butter
• Chopped up Spanish onion
• Thyme
• Chopped up garlic
Let it smoke! 
• Out of the oven, add a squeeze of lemon juice
• Add a pinch of dill 
Wild Boar Schnitzel (cast iron skillet) 
• Tenderize your back strap 
• Season with salt and pepper
• Dip it in an egg wash
• Roll it in your breadcrumb
• Add olive oil to your skillet & fry it up
• Add your caramelized onion chutney and enjoy!